http://www.eonline.com/uberblog/marc_malkin/b140773_breaking_bads_aaron_paul_no_90210_in.html


Breaking Bad's Aaron Paul: No 90210 in His Future
Sun., Aug. 23, 2009 8:45 AM PDT by Marc Malkin
Kevin Mazur/Getty Images
Just because Aaron Paul is dating 90210 actress Jessica Lowndes does not mean he's going to be appearing on the CW prime-time soap.
"I think there were pictures of me on set," Paul tells me about rumors he'd be making an onscreen visit to Beverly Hills.
Besides, Paul has enough work on his plate right now. Not only does he play Scott on Big Love, but he's also a first-time Emmy nominee this year for his work as crystal meth dealer Jesse Pinkman on AMC's Breaking Bad.
To say his work on Breaking Bad is intense would be an understatement...
Jesse went to rehab last season after he and his girlfriend, Jane (Krysten Ritter), started using heroin. "We had someone there who was a user for 12 solid years and he's been clean now for 15," Paul said. "It was crazy because when he was showing us how to do it, his hands started shaking and it kind of freaked him out a little bit."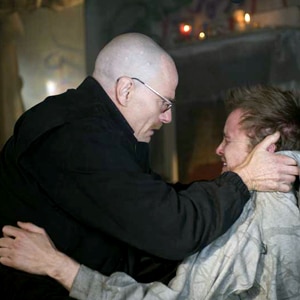 AMC
For the second year in a row, Paul's bringing his mom to the Emmys. "She was just beaming last year," said Paul, who turns 30 on Thursday. "We were at the Governors Ball and Glenn Close…was leaning over the railing and dropping pieces of chocolate into our champagne glasses. We look and my mother cannot believe what she's seeing. She was like, 'Oh, my God. Is this really happening?'"
Also coming along for the big night this time around will be Paul's dad, brother, and yes, Ms. Lowndes.
Paul admits he's nervous that all his success could lead to an even bigger spotlight on his personal life. In fact, the paparazzi recently snapped pics of him and Lowndes at the Grove mall in L.A. "We were walking out of [the movie theater] and it was so strange," he said. "I'm like, 'Oh, no!' They knew we were inside."
But, he added, "You got to just accept what it is and roll with the punches."
Or use Netflix.